"Great….. Should buy for Indian wedding post-production."
⭐⭐⭐⭐⭐- Adarsh S.
Designed specifically for wedding photographers, these hand-crafted presets will transform and infuse your photographs with vibrant colors, warm tones, and rich earthy hues that will help you define your style and save you time.
Our Premium Presets will speed up your editing process and save you time so that you can spend more time clicking and less time editing.
Why You Should Use Our Premium Wedding Presets
✅ This pack is specially developed for Weddings, Pre-wedding, Portraits, Bridal, outdoors, indoors, and Couples photoshoots.
✅ All the presets are tested on Indian skin tones to give you accurate color tones. Each Preset has been tested on RAW Photos, iPhone, and Android.
✅ These presets will make your feed more consistent and professional, resulting in more engagement.
✅ The tones in this pack will help you edit your photos better than an average photographer.
✅ All the presets are designed to transform your photos in just a few clicks.
*Compatible with Adobe Lightroom/ Photoshop (Windows/ Mac)– DESKTOP+MOBILE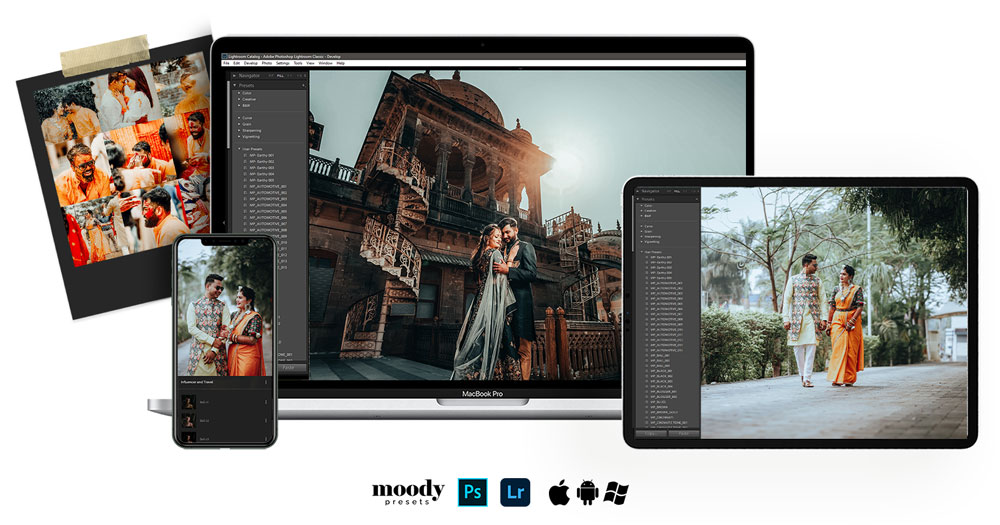 Giving your photographs a professional tone while keeping the consistency can be a daunting and time taking process.
Especially when you have loads of photographs or you click a lot. Our presets are perfect for beginners or even professionals looking for a quick and easy way to edit pictures on the go.
Having Moody Presets can save you time and help you edit your photographs on the go. That's why over 10000 Photographers and Influencers are using our presets to give their images a creative edge.
---
FAQs
What version of Adobe Lightroom do they work on?
Lightroom: They work on every version of Lightroom. On a Desktop, Tablet, or Mobile; the device you can load the app on.
Photoshop: You can use them in Photoshop CC- all versions.
Our presets are compatible with JPEG files (including iPhone and Android Phone pictures) as well as RAW images.
Additional info 
Lightroom Mobile App is completely free! You don't need to subscribe to Lightroom. All you need is the free Lightroom app on your phone!
Once your payment is received you'll receive an automatic confirmation email with links to your presets, and if you need help to install the presets go to our Instructions page. Don't worry, it's very quick and easy!
If you have a query or issue don't hesitate to touch base with us. Mail us at support@moodypresets.co.in or Whatsapp chat Support: +91-6386882705.